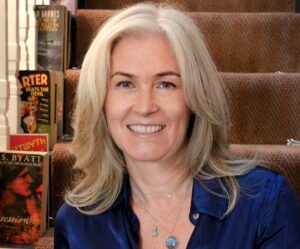 Paula is something of an accidental novelist; creating fictional stories had never featured in her life plan, but now dominates it. An environmental scientist, with a PhD in climate chemistry, she has spent her career writing, educating & campaigning to help save the planet from the worst of human excess.
Her first work, published in 1999 by Routledge, was a non-fiction retelling of the Brent Spar fiasco that occurred in the mid-1990s. It's the sorry tale of when Shell, the oil company, and Greenpeace, the campaigning charity, came to blows, on many notable occasions, over the final resting place of an abandoned oil storage platform in the North Sea. Two decades later, the film & TV world have woken up to the potential of the story and Paula's book is currently the source material for a forthcoming dramatisation of the story; with Paula acting as an expert Consultant to the scriptwriter.
In the intervening years, she has written many publications on behalf of the UK government, technical reports on energy use in the home and short works on emerging trends in sustainability, for example using gamification to help save the planet.
Her late foray into fiction writing was down to a serendipitous chance encounter, when she stumbled upon a talk, given by a local historian, at Battersea Arts Centre, London. One of his stories was of a series of incredulous, yet true, events that took place in and around the area in the early 1900s. The story, and the key themes running through it, captured her heart, and became something of an obsession over the following two years. Her initial thought was that it would make a perfect film, and indeed, a screenplay was the initial creative output of this project, with Paula hastily learning the fundamentals of screenwriting. Readers of the screenplay urged her to write the 'book of the film-to-be'; eventually she was persuaded that it would be an easier sell to publish the novel first. The screenplay is ready and waiting however, when the time comes.